Flooding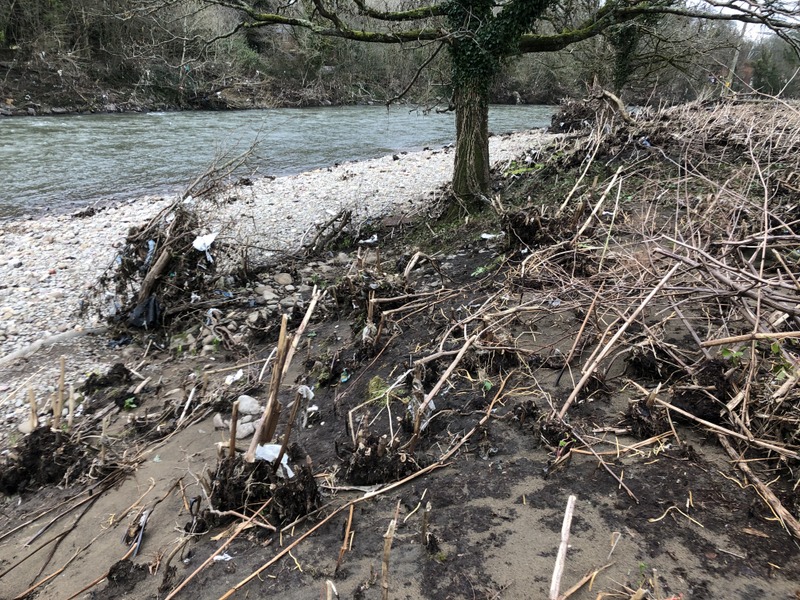 The start of 2020 saw severe flooding in the towns and villages of South Wales, including many of our client's sites and public parks in Cardiff, close to our offices.  Initial surveys undertaken by AJK along the River Taf identified viable knotweed material deposited by the receding waters some 60m from the main river channel!  Areas of complete washout of riverbanks have been also noted during our surveys, however banks impacted by Japanese knotweed appeared to have remained largely stable other than surface erosion.  Therefore we have decided to undertake research on the impact of the recent flooding on the mobilisation of terrestrial invasive species, using our pre-flooding surveys on our Client's sites and surveys available on public record.  We also want to better understand if invasive species, specifically Japanese knotweed, reduces the risk of bank collapses during these events.
The draft aims of the research project are as follows:
Gain a better understanding of the impact of flooding on the mobilisation of invasive species.
Estimate the cost associated with invasive species due to flood events.
Does the management of Japanese knotweed on riverbanks increase the risk of bank collapse?
If you have any pre-flooding surveys of land adjacent to the River Taf or River Cynon or can provide strong anecdotal evidence regarding new areas of Japanese knotweed and Himalayan Balsam, due to flooding along these rivers, please feel free to get in touch.